Hello, dear fellow readers & authors :)
In January I celebrated my birthday - with a brilliant day in Camden Town, midnight pancakes and an infusion of Jared Leto hotness in
Mr. Nobody
with one of my dearest friends, and a wonderful houseparty with chocolate cake and hours of latin music ♥. So many wonderful people sent me their birthday wishes - I am so grateful to everyone. It feels good to be surrounded by so much love :).
I also got the chance to blog over at Clare London's journal about
my upcoming release and the artists that inspire me when I'm writing
.
Since I realized I haven't shared it here yet, here's the cover of said release :). It's my first stand-alone work, a novella, which will be released by Samhain publishing on the 8th of March. Here's the cover and blurb for
The Mercenary
- I'm utterly in love with Kanaxa's work!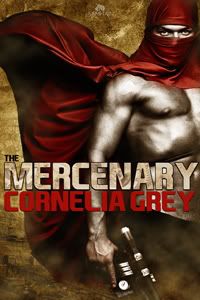 Now that a monstrous London machine has stolen the clouds from the sky, Asher Connor survives by selling his mercenary skills to transport water across York's wasted moorland. Until his unit is attacked by a pack of Tamer-controlled wolves, and his ingenious mechanical arm fails.

He awakens, surprised to find he's still alive—and dependent on a charming, attractive, utterly infuriating desert-dweller. The copper-eyed, untamed Gabriel is Asher's only hope. At least until he reaches a technician who can repair his arm. Reluctant trust turns to desire in the wake of another Tamer attack, and the adrenaline rush locks them in a bond of wildfire lust.

Yet despite Gabriel's deceptively relaxed attitude, he is dangerously focused. When they get to London, Asher manages to work out only part of the reason. His lover is connected to some kind of underground movement that's got something big in the works. So big, even quick-with-a-comeback Gabriel is maddeningly tight-lipped.

When betrayal brings the plan crashing down, Asher is plunged into a battle that wasn't his to fight—and if he doesn't execute the final stage, Gabriel's blood could be on his hands.
It's been a productive month. I wrote a short play, a short Steampunk story, a post-colonialism essay on hybridity and a feature article about women pirates. Also, a short erotic story about an unexpected encounter, late at night, in the shower... ;)
Now that I'm done with all those deadlines, I've finally started working on the Mercenary's prequel. Two days of writing and I'm on 2'340 out of the minimum of 20'000 I've set myself. The plot is already farly complete in my head, with just a few kinks and connection scenes to work out. Next week classes start again, and soon it will be once more Essay Season - time to dive into free-fall writing until the freedom lasts ;)
And how are you doing, my friends? What projects are you working on?