The new Circlet Press anthology
Elementary Erotica
is out today! When I found their call for submission, I was beyond excited - Sherlock Holmes, steampunk, nad hot mansex? Hell yeah. Needles to say, I have been anxiously waiting for this release!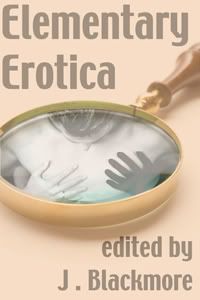 The Prophet's Eye
by Aoife Bright
The Hysteria Machine
by Louise Blaydon
The Adventure of the Green Zeppelin
by Elinor Gray
Research
by Kate Lear
Upon the Use of Electrical Vibration in the Treatment of Hysterics
by Violet Vernet
Emet
by Cornelia Grey
Songs Without Words
by Peter Tupper
In my story,
Emet
, I was able to indulge in several of my favourite topics - obscure alchemy, steampunk details, conflicted relationship, burning jealousy and of course... more hot mansex.
Emet
:
The already strained relationship between Holmes and Watson tumbles toward disaster when Holmes is called to investigate a string of very peculiar murders. Watson falls under the charms of an extravagant European professor and his revolutionary experiments. Are Holmes' attempts at sabotage related to the case, or fruits of jealousy? The detective and the doctor must repair their relationship before they're driven apart for good - and, when the murderer crosses their path, they must also find a way to survive.
Click to read an excerpt of my story!