Hello, everyone :)!

I surface today from the depth of uni work and frantic writing to announce wonderful news. My first book, The Mercenary, is out today with Samhain Publishing. It is a post-apocalyptic action/adventure set in the UK, between the moorlands, Windermere and London, with steampunk elements and, of course, a core of gay romance.

To celebrate, I'm offering up a free copy to the winner of a little draft. I will randomly select the winner and contact them on Monday the 14th.

All you have to do to enter is leave a comment to this post telling me, in a couple of lines or so, what type of character you'd be in a post-apocalyptic world. Would you be the hardcore mercenary? The evil ruler of a city? The vagabond poet travelling between the destroyed cities? The creepy scientist building incredible machines from scraps? Or...


Personally, I'd be the odd, geeky bookman who's in charge of the last, great library that somehow escaped the catastrophe. And I'd have an army of little rat-men to help me manage the place :).

I leave you with the blurb and cover, made by the brilliant Kanaxa.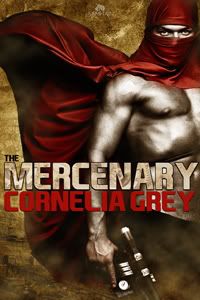 There are more elusive things than water in this wasteland.

Now that a monstrous London machine has stolen the clouds from the sky, Asher Connor survives by selling his mercenary skills to transport water across York's wasted moorland. Until his unit is attacked by a pack of Tamer-controlled wolves, and his ingenious mechanical arm fails.

He awakens, surprised to find he's still alive—and dependent on a charming, attractive, utterly infuriating desert-dweller. The copper-eyed, untamed Gabriel is Asher's only hope. At least until he reaches a technician who can repair his arm. Reluctant trust turns to desire in the wake of another Tamer attack, and the adrenaline rush locks them in a bond of wildfire lust.

Yet despite Gabriel's deceptively relaxed attitude, he is dangerously focused. When they get to London, Asher manages to work out only part of the reason. His lover is connected to some kind of underground movement that's got something big in the works. So big, even quick-with-a-comeback Gabriel is maddeningly tight-lipped.

When betrayal brings the plan crashing down, Asher is plunged into a battle that wasn't his to fight—and if he doesn't execute the final stage, Gabriel's blood could be on his hands.

Warning:
This title contains hot mansex, mild but manly swearing, jealousy possibly leading to yet more hot mansex, ancestral rituals, frightening flying machines, clockwork owls, inopportune admirers and the complicity of odd scientists.


Also, for your perusal, a not very worksafe snippet if you follow this link... On to the - (almost) - smexy!

The Mercenary is available as an ebook on Samhain's website and Amazon.