London has been most pleasantly warm and sunny in the past few days. What a wonderful surprise! Apart from providing me with the perfect excuse to buy a new pretty summer dress (I have all summer clothes back home in Italy... never really got a chance to use them here!)... the sunshine was perfect for some exploration and gallery-going. I especially loved Gabriel Orozco's exhibition at the Tate Modern - the piéce de resistance is
Black Kites
, a human skull with painstakingly drawn graphite lozenges.
In the Turbine Hall there is still Ai Weiwei's
Sunflower Seeds
installation, 100 millions hand-crafted porcelain sunflower seeds. Weiwei has been arrested by the Chinese police because of his political activism, and his whereabouts remain unknown. As I was there, a group of protesters were walking across the endless span of seeds placing rows and rows of printouts requesting he be freed. Among them there was a little girl, about 3 years old. An old Chinese man was handing her leaflets and she was carefully placing them down one beside the other.
I studied fine arts for 5 years in Italy and another year here in London, and I have to say... sometimes I really miss it. This weekend an artist friend came to visit me from Wales, and we've visited several galleries. It was great. ♥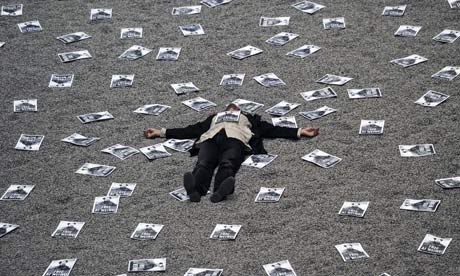 Protester laying in the sunflower seeds from the Guardian.
On more frivolous matters... I got another couple of warm-and-fuzzy-feeling-inducing reviews for
The Mercenary
.
5 stars from
Yzola Kitchi
on Amazon:
Overall a clever, funny and beautifully written story. Would love to read more about these characters and their world!
4 stars from
SMK
on Amazon:
This was a short, fast-paced read with a setting and characters that were impressively fleshed out.
4 stars from
Natasha
on Goodreads:
I wasn't ready for it to end.
And that is all. Peace and pandas handing out pink candyfloss. ♥