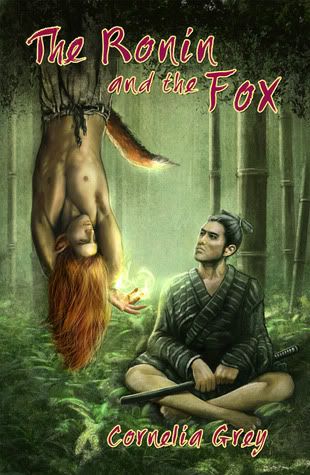 Hello, everyone :)!
I have a brand new, shiny cover to share - it's for my upcoming novella,
The Ronin and the Fox
, which will be released by
Storm Moon Press
in February. Nathie, the artist, is just amazing - I'm a little bit in love with all her art!
Here's the blurb for the novella :).


In feudal Japan, Kaede Hajime lives as a vagabond ronin, a samurai without a lord. As he spends the night at a village's inn, the innkeeper begs him to help stop a mischevious kitsune, a fox spirit, plaguing their village. But when he captures the spirit - in the form of a hauntingly beautiful man -Hajime learns that the kitsune has troubles of his own. The pearl that contains the fox's soul has been stolen, leaving him a slave to the new owner, who is forcing him to attack the village.

Hajime agrees to help the fox retrieve the jewel, but living with a fox spirit isn't easy, and the budding trust between them is constantly tested. Kitsune are tricksters above all, and Hajime must decide how much of the story the fox tells him is truth. What's worse, an old comrade of Hajime's is in town, bringing with him the sour memories of Hajime's time as a samurai. Hajime must find a way to locate the thief and steal back the jewel before the thief turns the kitsune's considerable power against him.
Boy, what a month this has been. I'm in my final semester at uni, I have exams and a final project to write and a job and I'm basically surviving on coffee and frozen pizza. Also, me and my flatmates have been without heating or hot water for a few days now (hopefully tonight it will be sorted). So, to fight the cold and unwind a little after spending the whole day sitting at various desks, I've started coopting the flatmates for traditional dance parties in the kitchen every night. Feels amazing - I love traditional Occitan dances (Occitania is a tiny region in the Italian mountains). Half an hour is enough to make all my muscles ache and get me drenched in sweat. It's such fun!
In other news, I got another lovely 4 1/2 Hearts review for my short story
Apples and Regrets and Wasted Time
, from
MM Good Reviews
. I'm thrilled with it:)!

Review: I don't believe that I have ever been as enthralled with a book as I was with this one. I don't even know where to begin as this is a story with no names.

It's been three years since he last saw his old lover and now here he is sneaking through his window, to get cleaned up before leaving again. Even though his old lover doesn't seem happy to see him they put aside their hurts as their passion is re-ignited.

Even though this is a short story do not be fooled that it will not draw you in with its intense emotional longings and the devastatingly hopeless love. These two lovers have not seen each other in three years but neither has forgotten or stopped loving the other. They remember everything about each other and they both do things 'just in case'. but they both know that it is hopeless between them, that it can never be.

Incredibly written, so full of detail, so full of emotion, so poignant, this is a masterpiece just waiting to be read. I have to recommend that you don't miss this book, it is a 'must be read' and enjoyed.