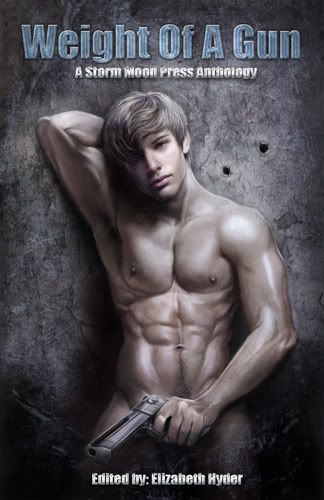 Hello, everyone :)!
I have great news - my latest short story,
Bounty Hunter
, is out today as part of Storm Moon Press's epic gun!kink anthology
Weight of a Gun
. As soon as I saw the call for submissions, I couldn't stop thinking of worn-out leather, stubbles, sun-burned skin, scorching heat, yellow dust, dry heat, and a gorgeous, gleaming, burnished old fashioned Colt... and what's hotter than a Bounty Hunter finally catching his prey in the merciless Wild West?
William Hunt is hot on the trail of lover-turned-outlaw James Campbell. But when William finally catches up with James, bringing him to justice is the last thing on his mind.
You can grab a copy on
Storm Moon Press' website
!
Here's an excerpt from the story ;)!
Excerpt:
The man walked in the saloon, the wooden doors swinging heavily behind him. Gravel crackled under his boots as he was welcomed by the reek of cheap alcohol and gin sweat. The handful of drunken men barely spared him a glance. Someone was singing a crooked, out of tune, love song. Worn out cards slapped on wooden tabletops, the tired clinking of glass against glass as someone poured a drink.
William Hunt didn't pay attention to any of it.
He had the best part of a whiskey flask in him, a gun heavy at his side, the stubble of four days on his face, and a sure lead. A lead he might have dragged out of a whimpering man, pressing the barrel of his gun hard into his cheek and wondering out loud whether at this particular angle the man's eye would explode as the bullet tore through it before it blew up his brain. The man couldn't speak fast enough to tell William what he wanted to know.
William hadn't shot the man, of course. He hadn't even intended to. He was just good at knowing what it would take to make a man talk; it came with the job after all. This one you could scare into spilling, that one you had to beat up, that one would crack after you broke a couple of fingers.
Whatever it took to get information.
William knew where James Campbell was holed up, and that was all he needed.