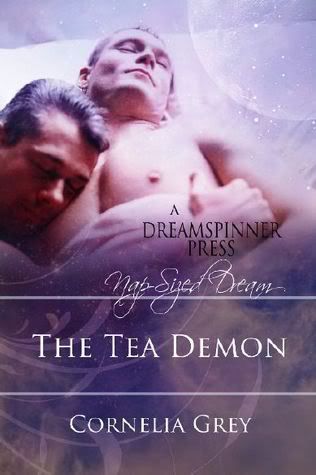 Hello, everyone :)!
I am being utterly and completely spoiled with all the great reviews my Tea Demon short story is receiving. I'm so very grateful to all readers & reviewers who take the time to let me know how they feel about it :)! I'm going to post some snippets and links, because I'm a tidy freak and I like having them all rounded up in one place... :D
Blurb:

Thief Eric Devon wishes one thing: for people to leave him bloody well alone. And maybe for more whiskey. Until a mysterious stranger offers him a job so dangerous that no one has ever attempted it and survived to tell the tale: recover a priceless object from the Turtle Merchants' impregnable palace. Intrigued by the man and the challenge, Eric accepts—but the stranger is none other than the legendary airship captain known as the Tea Demon, terror of the Sea of Clouds. Eric must come up with the best plan in history if he wants to complete his job... and survive it too.

There's a very flattering 4.25 stars review by
LadyM
at Reviews by Jessewave:
There is an old fashioned adventure feel to this story which was perfectly fitting for this setting and both main characters. They come across as daredevils with a taste for adventure and intrigues and, while we don't learn much about their backgrounds, what we did learn about them was enough to charm me. Their attraction was palpable and the promise of more believable. I particularly liked the humor, some of it very tongue-in-cheek. It was clear that the author had a lot of fun writing this. I know I had a lot of fun reading it. The writing was tight and, at times, truly beautiful. I like how the author is capable of capturing the mood or the situation in a few brief sentences.
Also, a lovely 4 stars review at
Jenre's Well Read blog
:
This steampunkish fantasy story begins in an electrifying way. Semi-retired professional thief Eric is approached by a stranger in a bar who wants him to steal something for him. After a passionate kiss followed by a bar brawl, Eric accepts and is amazed to discover that he's working for the notorious Tea Demon, scourge of the skies.
Then a great 4 hearts review by
Pixie
at MM Good Book Reviews:
I think with this one it has a lot to offer as you have adventure, excitement, hot steamy sex, explosions, a bar fight, air ships, a giant floating turtle and the promise of something more for Eric and Jonathan.
And finally, a lovely 4 stars review by
Alex
at Between the Covers:
Grey made the steampunk background come to life with beautiful, succinct descriptions of the world and the characters. In a few pages she creates a world, building upon the reader's basic knowledge to expand it into a fantastical environment. Although we are just given the bare bones, it's enough to provide a full-color illustration and support the simple--and amusing--plot.