Hello, everyone :)!
I have great news - my second novella,
The Ronin and the Fox
is out today with Storm Moon Press! This story took a long, tortuous path before being born. I started planning it in summer 2010, for an anthology centered on fantastical creatures. I immediately knew that I wanted to deal with a kitsune, the trickster fox spirits from Japanese mythology. However, it soon became evident that there was no way that I would fit everything in a short story, so I abandoned the project for a while, busy chasing after a billion deadlines, both for publishers and for uni. Before I had the time to notice it, a year had passed, and I stumbled across the WIP and thought to myself - now it's your turn, buddy... :)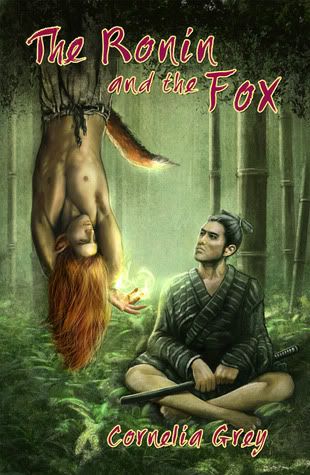 In feudal Japan, Kaede Hajime lives as a vagabond ronin, a samurai without a lord. As he spends the night at a village's inn, the innkeeper begs him to help stop a mischevious kitsune, a fox spirit, plaguing their village. But when he captures the spirit—in the form of a hauntingly beautiful man—Hajime learns that the kitsune has troubles of his own. The pearl that contains the fox's soul has been stolen, leaving him a slave to the new owner, who is forcing him to attack the village.

Hajime agrees to help the fox retrieve the jewel, but living with a fox spirit isn't easy, and the budding trust between them is constantly tested. Kitsune are tricksters above all, and Hajime must decide how much of the story the fox tells him is truth. What's worse, an old comrade of Hajime's is in town, bringing with him the sour memories of Hajime's time as a samurai. Hajime must find a way to locate the thief and steal back the jewel before the thief turns the kitsune's considerable power against him.
You can grab a copy on
Storm Moon Press' website
!
Here's an excerpt from the story ;)!
Excerpt:
Hajime flexed his fingers, trying to warm them up, before resting them on his katana. The night air was cool. Gravel crunched too loudly under his boots as he walked across the village's alleys.
He'd been patrolling the town for three nights, and still nothing. During the daytime, he'd explored the bamboo forest surrounding the village, setting a number of traps between the tall bamboo stalks where the ground appeared recently trampled. He'd spoken to several villagers, alerting them of his intentions and giving them instructions on how to behave at night. He was sure they would obey. No one would dare disobey the orders of a samurai, and even though he wasn't exactly... any longer... Damn. They would listen to him, and that was enough.
Hajime had never before met a fox spirit. The trickster spirits haunted houses and villages, stealing food and whatever tickled their fancies from the inhabitants. They could shift shape as they pleased, possess people, and ensnare a man's mind with their charms and illusions. Hajime had heard that they could change a field into a kingdom or a cave into a sumptuous palace. They could create pockets in reality and trap a man there for years if they so chose. Hajime fingered the deep red silk ribbon securely fastened around his right wrist. He'd received it from Tanaka-san. The man claimed a priest had blessed it years before, and that it would grant Hajime protection against the fox's enchantments. Hajime hoped he was right. He was not keen on losing his mind and spending the next decade frolicking in a cave at the mercy of some horrific spirit.
The sharp sound of a bell broke the quiet.
On to the chase - read the rest of the excerpt!