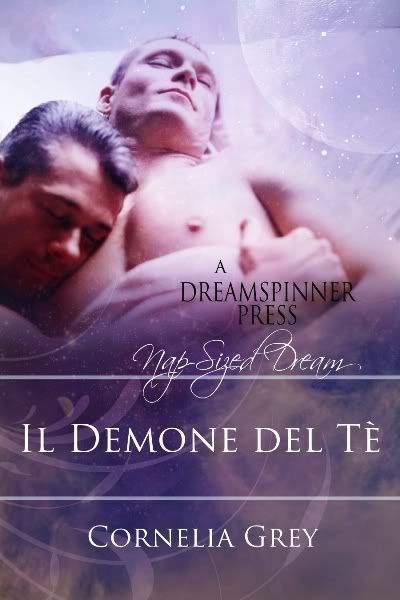 Hello, everyone :)! How are you doing?
I'm great - I'm back home in Italy for the Easter holidays, and I've been basically eating for a week. As a matter of fact, I've just come back from the customary barbecue at a friend's house, and I'm just sprawled in bed trying to digest everything I gobbled... ah, I'm going to miss this kind of food when I get back to London!
Being home is always great - I love finally getting to spend some time with my mother, my grandma, my baby brother and my boyfriend, not to mention catching up with all my friends. This is why I've barely been online lately - I still have to write that post on Yayoi Kusama, I've got a pile of emails that should have been written and sent off two weeks ago... I'm a disaster, I know :)!
I'm popping back online to - finally! - update this blog about the release of the Italian translation of my steampunk - fantasy - humor short story
The Tea Demon
. I'm really happy about it - seeing one of my stories translated in my language is incredibly rewarding! (I was the translator, too :). I'm posting the Italian and English versions of the blurb below...
Il Demone del Tè
:
Il ladro Eric Devon vuole una sola cosa: che la gente lo lasci in pace. E forse dell'altro whisky. Finchè un misterioso sconosciuto gli offre un lavoro così pericoloso che nessuno l'ha mai accettato ed è sopravvissuto per raccontarlo: recuperare un preziosissimo oggetto dall'inespugnabile palazzo dei Mercanti Tartaruga. Intrigato dall'uomo e dalla sfida, Eric accetta—ma lo sconosciuto altri non è che il leggendario capitano di navi volanti conosciuto come il Demone del Tè, terrore del Mare di Nuvole. Eric deve escogitare il piano migliore della storia se vuole completare il lavoro… e riuscire a sopravvivere.
The Tea Demon
:
Thief Eric Devon wishes one thing: for people to leave him bloody well alone. And maybe for more whiskey. Until a mysterious stranger offers him a job so dangerous that no one has ever attempted it and survived to tell the tale: recover a priceless object from the Turtle Merchants' impregnable palace. Intrigued by the man and the challenge, Eric accepts—but the stranger is none other than the legendary airship captain known as the Tea Demon, terror of the Sea of Clouds. Eric must come up with the best plan in history if he wants to complete his job... and survive it too.
You can grab a copy on
Dreamspinner Press' website
!